Founded in 1908, Macsa has developed from a company that produced some of the first rubber stamp-based coding systems, into a technology leader in the supply of laser based coding systems.  Since 1989, Macsa has invested significantly in R&D of laser coding and never settled on being second best.
As coding and marking needed to get faster and more reliable, so too has Macsa's range of laser coding systems. Dispelling the theory that laser coding is expensive, they have a complete range of systems based upon CO2, Fibre and DPSS lasers, all developed for use in markets ranging from medical and telecommunications, to cosmetic and pharmaceutical.  Macsa simply have a laser for every application.
Apart from the laser itself, control and integration are paramount to a successful installation.  With this in mind Macsa have developed a suite of software controls that ensure connection to any machine in the range, whether it be one type or different units easy of control is guaranteed.
The range tells the story:
The NEW iCON 3
The iCON 3 is compact, reliable, smart and easy to use. Best of all, it codes without consumables. Move on from inkjet coding and enjoy the benefits of laser marking with Macsa's iCON 3.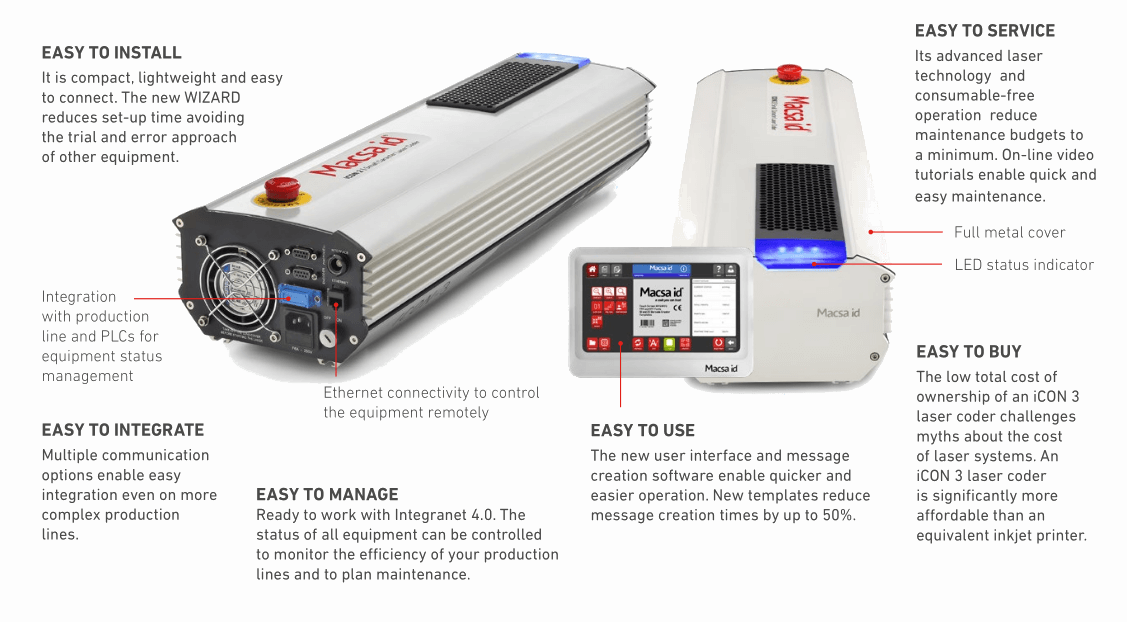 NEW WIZARD
This reduces laser set-up time thanks to a step-by-step guide. Operator time to configure a new system can be reduced by up to 90% by avoiding the trial and error system of other equipment.
NEW TEMPLATES
The iCON-3 incorporates many new templates including barcodes, expiry dates, QR codes and Datamatrix. These can reduce message creation times by up to 50%.
MAINTENANCE VIDEO TUTORIALS
The iCON-3 video tutorials available through the new handheld terminal, guide the operator in the maintenance of the laser, graphically and intuitively. Such maintenance operations, which optimize the operation and efficiency of the laser, should take no more than 5 minutes.
EFFICIENCY AND MAINTENANCE
You can control the efficiency of your equipment and the maintenance of your iCON from the same touch screen.
Download the Macsa iCON 3 datasheet:
K Series – The highly reliable and compact CO2 laser system is the fastest version available. Super High Speed versions are an excellent choice around beverage applications where speed is high and reliability is a non-negotiable.
K-Series Features
Features and benefits
The K Series can be customised to your needs – available in different speed, power, focal and marking head specifications.
Laser can be used on multiple application: board, paper, wood glass, and an assortment of plastics.
Compact design for simple production line integration.
High-speed operation.
The remote head and a separate controller box of the S-Series are easy to install and integrate.
Equipped with an integrated computer – avoiding the need for an external PC and saving space on a production line.
Easy linking with other K-Series Laser Machines on a production line.
Low operational costs and minimal maintenance requirements.
Extra accessories available: Diode marking area indicator, Mounting support, Encoder kit, and Photocell kit.
HPD Series – The HPD Series are high-power lasers with high performance and optimum definition.  This range consists of CO2 lasers that are mainly used in packaging pre-cutting and packaging micro-perforation, as well as on many materials to be coded with high definition.
HDP Series Features
Powerful
These lasers have a very high power density, which makes them very effective for cutting and drilling multilayer flexible film, foil and other materials. In addition, it allows marking high resolution images on nonmetallic materials and they offer excellent results when coding on difficult materials.
Combination cutting and coding
The ability to combine with a single laser cutting and coding makes HPD lasers by Macsa very suitable for integration into forming, filling, sealing and similar machines, which need to cut flexible plastic film and also mark batch coding in the material.
Easy to install
HPD Series allow coding in several production lines, and also cover large areas of marking while maintaining excellent definition and reading.
D-Series – The advanced DPSS laser systems are powerful units for applications in industrial marking where substrates require that extra punch in performance. Industrial DPSS lasers allow high quality marking on plastics and delicate substrates.
D-SERIES
The D-Series includes:
NANO DPSS – Compact and affordable laser marking system.
D-5000 DUO SERIES – High quality marking for plastics and delicate substrates.
D-5000 DUO GREEN SERIES – For marking plastics with minimal thermal impact.
D-5000 DUO UV SERIES – for marking thermo formed and exotic plastics.
F Series – The most versatile fibre laser system and the latest in laser technology. The F Series is flexible, compact and has the longest lifetime of any laser system available.
F-SERIES
The F-Series includes:
F-9000 DUO MOPA SERIES – Industrial Fibre Laser for high precision markings.
F-9000 DUO SERIES – High Precision 2D and 3D marking with industrial Fibre Laser on metals.
Laser Coders are commonly used to create:
Date & Batch Codes   NIP & Ingredients   2-Dimensional & QR Codes    Natural Branding for Fruits, Vegetables and Foodstufs  Text Information    Symbols & Logos    Unique Codes    Security Printing